06-Jun 15:00
FROM SECRETARY OF STATE FOR WAR HENRY PETTY-FITZMAURICE 5TH MARQUESS OF LANSDOWNE STOP
TO COLONEL COLDSTREAM GUARDS GENERAL SIR STEPHENSON STOP
FRED STOP GIVEN THE STATE OF WAR THAT NOW EXISTS WITH THE MARTIANS  YOU ARE HEREBY DIRECTED TO MOBILISE AND DEPLOY NUMBER 4 COMPANY DASH SPECIAL OPERATIONS ENDS
06-Jun 15:01
Number 4 Company, Coldstream Guards was raised by  Lt. Gen. Sir Arthur Wellesley, later 1st Duke of Wellington, in 1808 when Britain was expecting Napoleon to invade. Trained and modelled in a manner to Spanish guerrillas it was administered, and staffed by the Coldstream Guards.
06-Jun 16:50 @#4Coy-COLDM-GDS @LtJRDullanty
FROM COLONEL COLDSTREAM GUARDS GENERAL SIR STEPHENSON STOP
TO: LT. JAMES ROBERT DULLANTY NO 4 COMPANY SPEC OPS STOP
NO 4 COY HAS BEEN MOBILIZED STOP AS PER STANDING OPERATING INSTRUCTIONS IN THE EVENT OF AN INVASION YOU ARE DIRECTED TO PROCEED WITH 1ST AND 2ND PLATOON 4 COY TO TILBURY FORT WHERE YOU ARE TO ACT USING YOUR OWN DISCRETION.
06-Jun 16:51 @LtJRDullanty
Lieutenant James Robert Dullanty (1870 – 1897)
The youngest son of Sir John Dullanty, whose estate at Rotch Wood abutted the Queen's estate at Balmoral, James enlisted at the Royal Military Academy, Sandhurst following three years at Oxford University studying history.
Lieutenant Dullanty received the Sword of Honour on his graduation in 1892 from Sandhurst. The Sword being awarded to the most outstanding graduate of each intake.
With his father's support he joined the Coldstream Guards, formed in 1650 it was the oldest continuously serving regiment of the British Army. As well as guarding the monarch and undertaking ceremonial duties, its soldiers served as infantry in almost every major campaign fought by the Army.
Lt. Dullanty's talent as a mimic and musician earned him an immediate commission in the Guards' 4th Coy, which trained in special operations as well as providing the Regiment's band.
The only picture known to exist of Lt J R Dullanty: taken by Christina Broom (1863–1939), who after the war made an extensive chronicle of the leaders of the Suffragette movement between 1900 and 1906. For the leaders of the campaign for the enfranchisement of women, photographs that would distance them from the popular press imagery of militancy and disorder proved vital tools.
(originally modelled by Captain-Heneage: Roger-Fenton-Crimean-War-photograph-collection)
06-Jun 16:55 #TilburyFort
At the start of the 18th century, Tilbury Fort was one of the most powerful forts in Britain. However, by 1889, Tilbury Fort's bastion design had become out-dated. The government considered the defences further down the Thames to be sufficient and Tilbury was therefore not improved. By 1889 Tilbury was largely redundant as a defensive fortification, although it was still in use as a strategic depot.
Tilbury Fort served as a mobilisation centre to support a mobile strike force in the event of an invasion, part of the wider London Defence Scheme, and large storage buildings were accordingly added to the site to store materiel.
06-Jun 16:57 #4Coy-COLDM-GDS
FROM COLONEL COLDSTREAM GUARDS GENERAL SIR STEPHENSON STOP
TO: LT. MARKUS KILVANEY NO 4 COMPANY SPEC OPS STOP
NO 4 COY HAS BEEN MOBILIZED STOP AS PER STANDING OPERATING INSTRUCTIONS IN THE EVENT OF AN INVASION YOU ARE HEREBY DIRECTED TO HOLD YOURSELF AND 3RD AND 4TH PLATOONS 4 COY READY FOR IMMEDIATE DEPLOYMENT ENDS
07-Jun 03:00 @LtJRDullanty #PersonalDiary
Just my luck, we're at war and my command has been ordered in the opposite direction to the enemy – Kilvaney gets all the luck.
Train network is a real mess, took us 5 hours to get to Tilbury, arrived 02:00, only to find that no-one had told the Fort we were coming. Took an hour to get both platoons transferred to the Fort.
08-Jun 17:00 @LtJRDullanty #PersonalDiary
Spent most of the day securing mounts and ensuring everyone has sufficient rations and ammunition to last 5 days in the field. Stumbled on several boxes of dynamite, and while Sergeant Dunleavy was out securing the mounts I demonstrated its use to the rest of the unit. I can see why Papa raves about it. Bit short on fuses though.
09-Jun 08:00 @LtJRDullanty #LondonLost
FROM GENERAL SIR STEPHENSON STOP
TO: LT. JAMES DULLANTY NO 4 COY SPEC OPS STOP
WE HAVE LOST LONDON STOP THE ARMY IS FORMING A NEW LINE ALONG THE GWR MAINLINE TO BRISTOL STOP IT IS VITAL YOU OBTAIN INFORMATION ON THE MARTIANS AND THEIR CAPABILITIES STOP AS DISCUSSED ALL INFORMATION TO BE PROVIDED TO OUR RESEARCH FACILITIES AT THE ROTCH WOOD ESTATE ENDS
09-Jun 10:20 @LtJRDullanty #YourGodmotherIsVisiting
FROM GENERAL SIR STEPHENSON STOP
TO: JAMES DULLANTY
BE AWARE THAT YOUR GODMOTHER IS ON ROUTE TO BRADWELL-ON-SEA WITH SMALL ESCORT STOP PLEASE PROVIDE ADDITIONAL PERIMETER SECURITY STOP
STEPHENSON ENDS
09-Jun 10:22 @LtJRDullanty #PersonalDiary
Oh joy, a visit from 'Aunt Vicky'. Bradwell-On-Sea is 12 hours away. At least we've managed to get both platoons mounted, and everyone has now been introduced to the dynamite. Still can't locate additional fuses – typical SNAFU.
09-Jun 12:15 @LtJRDullanty #PersonalDiary
Sergeant Donaldson just rode in with a message from Lt. Kilvaney warning us about the Martian's black-dust. The Sergeant was just about all-done-in from the ride and I sent him off to rest and telegraphed the message onto Papa. Poisonous stuff — the 4th platoon lost a lot of good men. Usefully, it seems the Martians can disperse it with steam.
09-Jun 12:22 @SirJDullanty #RotchWood
Sir J Dullanty – whose Scottish estate (Rotch Wood) abutted Balmoral, was a chemist, engineer, inventor, and philanthropist. The Dullenty family often visited when the Queen when she was in residence. The Queen in fact serving as the god-mother to his youngest son. Dullanty had a large laboratory and had often communicated with Alfred Nobel before Nobel's death in 1896.
Sir J Dullanty found himself driven to invent the first gas mask against black dust, as a result of communications from his son. Initially a simple hessian sack with glass goggles, the hood placed over the head and tied at the neck had to be kept wet. Recognising its many failings, a mask with an external box respirator with a built in trickle feed was issued within 17 days (22nd June).
Unfortunately, we have been unable to discover any records detailing the agreement to centralise information facilities at Rotch Wood. Sir J Dullanty was in Scotland on the 6th, but as a close confident of the Queen, and a personal friend of the then Secretary of State for War, it is possible that the decision was one taken between the Queen and the Secretary of State.
Churchill, in his 'Hidden Histories' later suggested that it may have due to the fact that #RotchWood was some considerable distance from the Martians, had a private telegraph line, and large laboratory, and abutting Balmoral #RotchWood's location adjacent to Balmoral gave it easy access to the train network, and the protection of those units of the Grenadier Guards, the Coldstream Guards, the Scots Guards, the Irish Guards and the Welsh Guards emplaced around Balmoral.
Unfortunately, given the amount of secrecy that subsequently surrounded the #RotchWood establishment it is unlikely we will ever find out.
It is believed that this photograph taken at Glenquoich in 1905 of King Edward VII may be the only photograph we have of the 1st Earl RotchWood. The Earl being the 3rd from the left.
10-Jun 11:00 @LtJRDullanty #PersonalDiary
The roads were chaos – everyone seems to be running, without any idea where they're running to. Arrived at Bradwell to find the waters crowded with small craft taking on board refugees while the Fleet held station off shore.
There was a detachment of marines waiting on the wharf for my Godmother and I ordered an outer perimeter of 10 set up about a mile out of town. The remainder of us occupied houses along High Street. Everyone set-to to break through the interior walls of the Terrace House so we can move undetected between them.
10-Jun 17:15 @LtJRDullanty #PersonalDiary
The Queen's escort arrived at 16:30 and leaving 2nd platoon in the town I took 1st platoon down to the quay to watch. The transfer took place without incident and I was intending to pull everyone back when we spotted three of the Martian tripods approaching. I can remember staring at them, gobsmacked, shocked by their size.
I ordered everyone to scatter, while Sergeant Hugh, Corporal Smith, and I took cover on the beach. From our position we watched HMS Thunder Child ram through the legs of the 1st tripod, plowing on into the legs of the 2nd Martian, bringing it down even as the tripod sprayed black dust.
We saw for the first time the Martians use their heat-ray, but it was too late and the Thunder Child exploded under the last tripod.
"Lieutenant," Sergeant Hugh said, pointing out to sea.
Raising my head I saw something bobbing in the water, only a short distance away.
"Is that a Martian?" the Corporal asked.
"Looks like it might be," the Sergeant said, cautiously.
At that a mad thought came to me. "Come on," I said. "Let's capture it."
10-Jun 18:00 @LtJRDullanty #PersonalDiary
After #ThunderChild's success I had expected the fleet to move closer to shore but suddenly they abruptly went about, passing into the thickening haze of evening, southward.
And then the reason for the ironclads' disappearance. Out of the deep twilight something rushes up into the sky, and into the luminous clearness above the clouds in the western sky. A Flyer.
Flat, broad and very large the Flyer sweeps round in a vast curve, before vanishing again into the grey mystery of the night.
11-Jun 04:30 @LtJRDullanty #PersonalDiary
The body of the Martian turned out to be dead but we successfully recovered it and I sent the Sergeant with two men to protect the body to the nearest Great Eastern Railways' station at Southminster with orders he was to telegraph my father who would arrange its transfer. Meanwhile we spent 15 minutes trying to recover what else we could from the remains of the Martians before a heliograph message forwarded from the town warned us of further tripods approaching. Ceasing our recovery efforts we pulled back to the shelter of the town.
We pulled out after dark and caught up with the Sergeant and the two privates at Southminster. They'd been told to await a special that was to convey the body north. Leaving him with 1st platoon I headed back to Tilbury.
12-Jun 13:00 @LtJRDullanty #PersonalDiary
Still haven't heard anything more regarding the flying machine we sighted on the 10th, following the sinking of HMS Thunder Child, so queried it again with HQ and got a 'WAIT OUT' in response.
Against this we received detailed instructions on how to construct the new Gas Mask Mk 1. No-one who saw the first model we built expressed any confidence that it would actually work, myself included, despite it having been designed by my father.
With no choice, however, we persisted with their assembly until we had enough to equip everyone.
12-Jun 21:00 @LtJRDullanty #PersonalDiary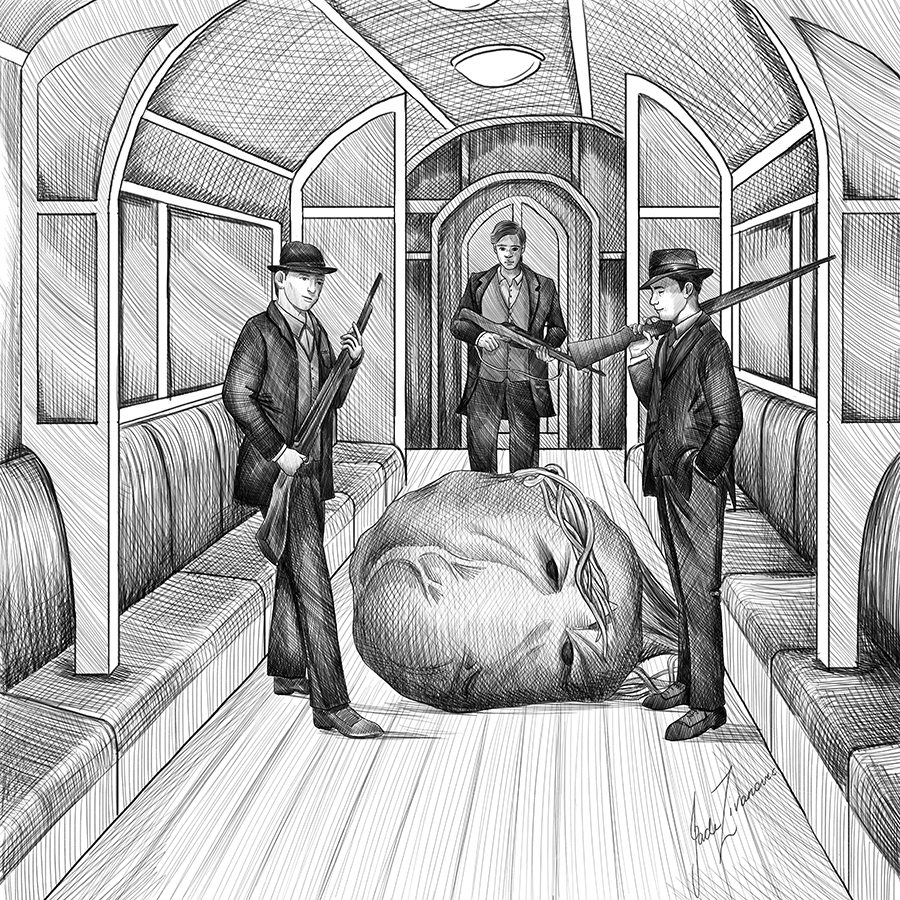 Sergeant Hugh and the 1st Platoon returned. According to the Sergeant the army arranged an 'extra' consisting of a single carriage and locomotive to pick up the body and the platoon and transferred them via Shenfield to Peterborough on the Great Eastern Railways Line.
At Peterborough the carriage was transferred onto the Great Northern Railway's connection to Aberdeen and then onwards to Balmoral, and my father's laboratories at #RotchWood.
They were then left to arrange their own arrangements for their return. Sometimes, I have doubts regarding whether the army could organise a piss-up in a brewery.
13-Jun 10:00 @LtJRDullanty
TO: JAMES DULLANTY
BE AWARE THAT LT KILVANEY REPORTS THAT NUM 3 AND 4 PLATOONS WERE CAUGHT IN AN AMBUSH AND HAVE RETREATED TOWARDS WEYBRIDGE.
STEPHENSON ENDS
13-Jun 10:15 @LtJRDullanty
TO: STEPHENSON
ANY FURTHER WORD ON THE MARTIAN'S FLYING MACHINE STOP
DULLANTY ENDS
13-Jun 10:30 @LtJRDullanty
TO: JAMES DULLANTY
WAIT OUT
STEPHENSON ENDS
13-Jun 17:15 @LtJRDullanty #PersonalDiary #Tilbury
Sentries report the sound of large guns to the west-northwest, somewhere beyond London.
13-Jun 22:00 @LtJRDullanty #PersonalDiary #Tilbury
Received confirmation that the army beat off an attack on Didcot today. Apparently the Gas-masks proved crucial in allowing the army to hold. I didn't envy them having to wear the things, today was unpleasantly hot. I have ordered the unit to practice wearing their masks for at least five hours a day.
13-Jun 22:01 @LtJRDullanty #LondonWeather
(NOTE: records indicate a maximum of 25C – https://www.extremeweatherwatch.com/cities/london-on/year-1897)
13-Jun 22:02 @LtJRDullanty #PersonalDiary
Civilian deaths were high in the attack on Didcot, and all civilians within 10 miles of the Line, and not directly employed in a role vital to defence are being evacuated.
14-Jun 09:20 @LtJRDullanty #PersonalDiary
I have decided to move the unit closer to London. We're not achieving anything here. The fort commander has agreed to loan me 6 men and 3 heliograph units.
One heliograph will be based at the Royal Observatory in Greenwich, with at least one repeater somewhere between the fort and Greenwich, probably on Bexley Heath. This will enable us to maintain contact with HQ via the fort's telegraph unit while the weather remains fine.
We're taking 4 boxes of dynamite. It's not doing anything in the Fort, and there has to be something we can use it for.
16-Jun 09:30 @LtJRDullanty #PersonalDiary #Greenwich #FlyingMachine
Sentries reported the return of the flying-machine. Sergeant Hugh is convinced it landed somewhere near Regent's Park.
I called for volunteers to see if we could locate its base. Sergeant Hugh and three other have agreed to try.
We can't use the bridges, but there are rumours of at least one group using the Underground to pass around the city undetected. The Sergeant intends to enter the tunnels at London Bridge and work his way through to Kings Cross. He'll take one of the heliographs with him.
16-Jun 15:00 @LtJRDullanty
FROM FIELD MARSHAL WOLSELEY STOP
TO COLONEL COLDSTREAM GUARDS GENERAL SIR STEPHENSON STOP
SITUATION AT SWINDON PRESENTLY STABLE STOP BUT ARTILLARY SUFFERED HEAVY LOSSES AS RESULT OF ATTACK FROM THE AIR STOP IMPERATIVE THAT THE MARTIANS FLYING MACHINE IS DESTROYED ENDS
16-Jun 15:15 @LtJRDullanty
The message FROM FIELD MARSHAL WOLSELEY was forwarded to Lt JR Dullanty with the following addition.
JAMES IT IS VITAL THE FLYING MACHINE IS DESTROYED STOP GOD GO WITH YOU FRED
19-Jun 12:01 @LtJRDullanty
TO: LT. JAMES ROBERT DULLANTY NO 4 COMPANY (SPECIAL OPERATIONS) COLDSTREAM GUARDS STOP
JAMES PLEASE THANK GEN SIR STEPHENSON FOR THE BODY OF THE MARTIAN AND THE REMAINS OF THE MACHINES YOU RECOVERED STOP ATTACHED IS A COPY OF OUR INITIAL FINDINGS.
YOUR FATHER
J DULLANTY ROTCH WOOD
"THE MARTIANS APPARENTLY EITHER DO NOT KNOW OF, OR ABSTAIN FROM, THE WHEEL BUT IN THEIR APPARATUS SINGULARLY LITTLE USE IS MADE OF THE FIXED PIVOT OR RELATIVELY FIXED PIVOT WITH CIRCULAR MOTIONS THEREABOUT CONFINED TO ONE PLANE…
"ALMOST ALL JOINTS OF THE MACHINERY PRESENT A COMPLICATED SYSTEM OF SLIDING PARTS MOVING OVER SMALL BUT BEAUTIFULLY CURVED FRICTION BEARINGS STOP REMARKABLY THE LONG LEVERAGES OF THEIR MACHINES ARE IN MOST CASES ACTUATED BY A SORT OF SHAM MUSCULATURE OF DISKS IN AN ELASTIC SHEATH…
"THESE DISKS BECOME POLARIZED AND ARE DRAWN CLOSELY AND POWERFULLY TOGETHER WHEN TRAVERSED BY A CURRENT OF ELECTRICITY STOP IN THIS WAY THE CURIOUS PARALLELISM TO ANIMAL MOTIONS, WHICH WAS SO STRIKING AND DISTURBING TO THE HUMAN BEHOLDER, WAS ATTAINED…
"SUCH QUASI-MUSCLES ABOUNDED IN THE HANDLING-MACHINE YOU OBTAINED AND WHICH YOU COMMENT APPEAR INFINITELY MORE ALIVE THAN THE ACTUAL MARTIANS LYING BEYOND IT IN THE SUNSET LIGHT STOP PANTING AND MOVING FEEBLY AFTER THEIR VAST JOURNEY ACROSS SPACE…"
Note: This telegram was never delivered due to Lt. Dullanty's, due to his death during the attack on the airfield at Primrose Hill. The telegram was personally returned to his father after the war by Gen Sir Stephenson.
20-June 22:00 #Hampstead
The Martians still have a large encampment near Hampstead. It's like a great city, and at night, the sky is bright with their lights.
Afterword: @LtJamesRobertDullantyVC